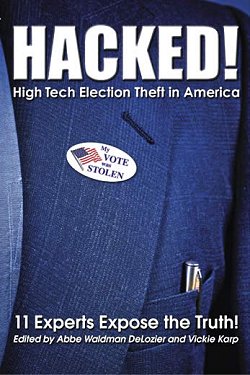 Hacked!
High Tech Election Theft in America
edited by Abbe Waldman DeLozier and Vickie Karp
NEW!
HACKED! High Tech Election Theft in America presents to the American people the work of eleven experts on the issue of electronic vote fraud, stolen elections, and best solutions to the crisis. It explains how electronic voting has stolen our democracy; how elections in American have been privatized by large corporations; why the mainstream media is barely reporting it; and how imperative it is that Americans start TODAY to reclaim their elections.
Editors Abbe DeLozier and Vickie Karp have a mission; To lift the veil of media blackout on the most heinous crime ever committed against the American people: the theft of their democracy; to create the rightful indignation amongst our citizens; and to clearly show that the only solution is direct and immediate citizen involvement geared toward a return to paper ballot elections, hand-counted at the precinct level. Action steps for citizens are included in this expose.
Contributors to this book include Lynn Landis, Bev Harris, Vickie Karp, Bob Fitrakis, Harvey Wasserman, May Schmidt, Victoria Collier, Cynthia McKinney, Kathleen Wynne, Jeremiah Akin, Abbe Waldman DeLozier.
214 pages, soft cover